US Federal Budget Deficit Expected To Exceed $1.4 Trillion in 2010 AND 2011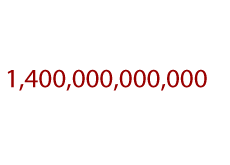 The White House revealed today that contrary to previously released official projections, the federal budget deficit will be higher than $1.4 trillion in both 2010 and 2011.
Now, everybody knew that the United States would be posting another trillion dollar plus deficit in 2010 (the official estimate is actually $1.47 trillion).
However, the general consensus was that the country would be able to bring the budget deficit under a trillion dollars in 2011, but this isn't going to happen.
In fact, the budget deficit (according to the White House) will "exceed" $1.4 trillion in 2011 as well.
This was welcome news for Republicans, as they will continue to hammer President Obama and the Democrats on the deficit issue leading into the midterm elections in November.
The White House pointed out that the expected trillion dollar plus budget gap in 2011 (which was originally expected to drop to around $900 billion) will come as a result of an "unexpectedly big drop in tax receipts".
In other words, the economy is not going to recover as quickly as previously thought. According to the White House, the national unemployment rate is not expected to dip below 8% until "the end of 2012". With that many people out of work, an unexpectedly big drop in tax receipts comes as no surprise.
Let's take a look at the budget deficit trend over the past decade or so:
2001 - $127.3 billion surplus
2002 - $157.8 billion deficit
2003 - $374 billion deficit
2004 - $413 billion deficit
2005 - $319 billion deficit
2006 - $248 billion deficit
2007 - $162 billion deficit
2008 - $455 billion deficit
2009 - $1.4 trillion deficit
2010 - $1.47 trillion deficit (estimate)
2011 - $1.47 trillion deficit (estimate)
Given the trend over the past decade or so, it seems almost ridiculous that the United States was able to post four straight budget surpluses from 1998-2001.
The White House is expecting additional borrowing of $8.5 trillion through 2020, which will end up bringing the total national debt load to over $20 trillion.
Three straight years of trillion dollar plus deficits in the United States? Unbelievably scary stuff.
Source: Washington Post -
Federal Budget Deficit to Exceed $1.4 Trillion in 2010 and 2011
Source: Davemanuel.com -
A History of Deficits and Surpluses in the United States
Filed under:
The Economic Meltdown