Economy Grew at 2.4% Pace in Q2, Down from 3.7% in Q1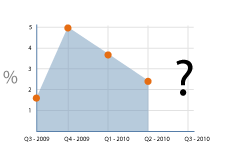 As expected, the economic recovery in the United States continued to slow during the second quarter of 2010. Real gross domestic product increased at an annual rate of 2.4% in Q2, down from 3.7% the quarter before.
These numbers were not a surprise as economists have been racing to lower their expectations for economic growth in Q2 in recent weeks.
The 2.4% annual growth rate for Q2 ended up being slightly lower than the average analyst forecast of 2.5%.
The United States has now had four straight quarters of economic growth, but the quarterly growth numbers have been more moderate than people would have hoped.
Here is how the numbers break down over the past four quarters:
2009 Q3 - 1.6%
2009 Q4 - 5.0%
2010 Q1 - 3.7%
2010 Q2 - 2.4%
A recovery appeared to be in full bloom during the fourth quarter of 2009 as economic growth ramped up to an annual rate of 5.0%. However, things have clearly slowed since then.
Economic growth was slowed in Q2 due to a number of different factors, including: surge in imports (which created a trade deficit) and tepid consumer spending. Growth in consumer spending was 1.6% in Q2, down from 1.9% in the previous quarter.
--
These numbers today are sure to have people talking about the possibility of a double-dip recession taking place in the United States. Businesses aren't hiring and consumers aren't spending, which means that the national unemployment rate should continue to hover between 9.5% and 10% over the near-term.
Another interesting note from today's numbers - it turns out that the economy contracted by 2.6% last year, which is 0.2% higher than what was previously estimated.
--
One thing is for sure - all eyes will be on the Q3 GDP number.
Source: BEA.gov -
Q2 2010 GDP Numbers
Filed under:
The Economic Meltdown