In 2000, the CBO Predicted a Cumulative Budget Surplus of Over $3 Trillion From 2001-2010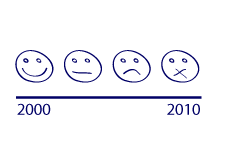 In January of 2000, the CBO (Congressional Budget Office) released "The Budget and Economic Outlook: Fiscal Years 2001-2010".
At the time that this report was released, the country was on a "dot-com bubble" induced sugar-high. The NASDAQ was trading above 4,000, the national unemployment rate was just 4% and the country had just posted a $125.6 billion budget surplus. Things were good.
This optimism spilled over into the aforementioned report that was released by the CBO in early 2000.
According to the CBO, things were looking very good for the country from a budgetary standpoint. Very, very good.
How good?
Back in early 2000, the CBO was forecasting that the country would post a total surplus of $3.2 TRILLION over the next ten years (assuming that government spending grew at the rate of inflation).
According to their summary at the time, this estimate was taking into account "the possibility of booms and recessions during that period".
--
Now let's fast forward to 2010.
In March of 2010, the Director of the Congressional Budget Office released a statement on his blog in which he revealed that the CBO was projecting a cumulative DEFICIT of $9.8 trillion between 2011 and 2020.
Back in 2000, nobody blinked when the Congressional Budget Office released their rosy estimates for the 2001-2010 period. Given how well the country was doing at the time, these results seemed feasible.
If you had been told back in 2000 that the country would likely post a deficit of $10 trillion between 2011 and 2020 - well, you almost certainly wouldn't have believed it. After all, the country "only" owed about $5.66 trillion at the time and the economy was blazing hot.
You also probably wouldn't have guessed that the country would end up posting a cumulative DEFICIT of over $4.5 trillion between 2001 and 2010. Things got off to a decent enough start, as the country managed to post a surplus of over $127 billion in 2001. After that it was all downhill, with the United States posting nearly $3 trillion in combined deficits from 2009-2010.
The CBO's rosy estimates from 2000 were crushed by a number of different factors, including two expensive wars (Iraq and Afghanistan), the financial crisis of 2008, etc.
It's amazing to see how much things have changed when you look at the CBO's reports from 2000 and 2010.
Source: CBO.gov -
The Budget and Economic Outlook: Fiscal Years 2001-2010
Source: CBO.gov -
Preliminary Analysis of the President's Budget
Source:
History of Deficits and Surpluses in the United States
Filed under:
The Economic Meltdown