Some Analysts Are Turning on Research In Motion - Will Institutional Investors Follow?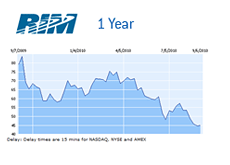 RIMM (Research In Motion) has been making headlines over the past couple of days due to the fact that a couple of analysts have stepped out and slapped the company with "sell" ratings.
Colin Gillis of BGC Partners was unusually vicious in his assessment of RIMM, claiming that the company had a "diminishing appeal" in a hypercompetitive smart phone market.
RIMM has had a tough go of it over the past year, trading down from over $85 in September of 2009 to its current level of $45.02.
--
With several analysts turning their backs on the company, the question then becomes - are institutional investors doing the same?
Let's look at what 96 of the largest institutional investors in the world did last quarter in regards to their positions in RIMM.
At the end of Q2/2010, 19 of the 96 funds that we tracked in our database held positions in RIMM. Some of the larger positions included FMR LLC (21,427,547 shares) and Janus Capital Management LLC (19,743,839 shares).
For comparison purposes, Apple (AAPL) was the most widely held stock in our database last quarter, as 48 of the 96 funds in our database owned at least one share of the company.
During Q2/2010, 7 of the 96 investors that we tracked completely exited their positions in RIMM. They were:
Catapult Capital Management LLC, 1,000 shares
Diamondback Capital Management LLC, 5,671 shares
Carlson Capital LP, 83,100 shares
Fox Point Capital Management LLC, 125,000 shares
GLG Partners, Inc., 185,138 shares
Calamos Advisors LLC, 1,114,180 shares
Coatue Management LLC, 1,686,495 shares
4 of the 96 investors in our database decided to open NEW positions in RIMM during the second quarter. They were:
Duquesne Capital Management LLC, 60,000 shares
Plural Investments, LLC, 85,579 shares
Alkeon Capital Management LLC, 554,231 shares
Renaissance Technologies LLC, 2,165,157 shares
--
7 of the funds in our database decided to add to their existing positions in Q2/2010, while 6 decided to reduce their existing positions. These transactions resulted in a net share change of -1,089,988 shares. The largest single change belonged to Janus Capital Management LLC, which elected to dump over 2.7 million shares of their existing position in RIMM.
--
Can RIMM reverse their fortunes in the upcoming quarters?
How long will institutional investors stick around for if they can't?
Source:
Manuel Fund Report
Stock Quote:
RIMM
Filed under:
General Market News