Warren Buffett Rules Out a Double-Dip Recession in the United States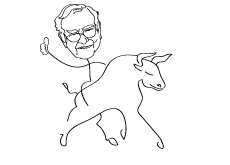 Is a double-dip recession coming to the United States?
Warren Buffett, aka "The Oracle of Omaha", is one person that says "no way".
According to Bloomberg.com, during comments to the Montana Economic Development Summit, Buffett said that "we will not have a double-dip recession at all".
There was no wavering on Buffett's part. No qualifying statements. Instead, he made the bold prediction that there was no chance that the economy would suffer through the dreaded double-dip recession, despite the fact that the US economy has clearly been slowing down over the past two quarters.
Buffett added that his businesses (those owned by Berkshire Hathaway) are "coming back across the board", and that the souring sentiment regarding the US economy has mostly been perpetuated by the media.
Buffett claimed that he remains a "huge bull" on the United States, and that the current economic climate compared to the dark days of 2008 is "night and day".
Warren Buffett is in a pretty unique position when it comes to gauging the strength of the economy. Berkshire Hathaway owns dozens of companies in a multitude of different industries, including manufacturing, utilities and insurance. In addition to the wholly owned companies, Berkshire Hathaway also owns sizable stakes in a number of major publicly traded stocks, including Coca-Cola, Wells Fargo and American Express.
Given his unique access to all of these different companies, you would be correct to assume that Buffett would be one of the first people to accurately identify an uptick in economic activity.
According to Buffett, this unique access has brought him to the conclusion that a double-dip recession is not coming to the United States.
--
Skeptics say that Warren Buffett is merely attempting to drum up support for President Obama.
Warren Buffett publicly endorsed President Obama before the 2008 elections, and has issued several public declarations of support for Obama in the nearly two years since.
With the midterm elections just around the corner, and with President Obama taking a beating in public opinion polls (mainly due to the state of the economy), many think that Buffett's public optimism is simply an attempt to give a boost to Obama.
What do you think?
Source: Bloomberg.com -
Buffett Rules Out Double-Dip Recession Amid Growth
Filed under:
The Economic Meltdown