How High Will Gold Go?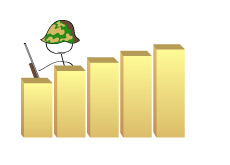 The equities markets may be lurching along, unsure in which direction to move, but the price of gold is continuing to move in one direction - up.
It seems as though there is a good chance that gold will pass through the $1,300/oz level next week. The spot gold bid briefly moved past the $1,280 mark earlier today, before settling at a price of $1,274.70.
Gold has been on a tear as of late, trading from $1,230 to $1,274 in the past month, from $1,190 to $1,274 in the past two months and from approximately $1,000/oz to $1,274/oz in the past year.
Investors have become increasingly jittery about the prospects of a global economic recovery taking hold over the past 6 months or so, mainly due to the fact that the "economic recovery" in the United States has basically ground to a halt. Gold is a defensive asset, and many investors/funds have been purchasing gold over the past 3-6 months in anticipation of continued economic turmoil.
Sure, gold is currently trading near its all-time highs, but after adjusting for inflation, the precious metal has quite a ways to go before it eclipses its inflation-adjusted high of approximately $2,250 per ounce.
In early 1980 the price of gold surged to an outrageously high price of $850/oz (in 1980 dollars) due to a number of different factors, including:
1. High inflation (inflation in the US was over 13% in 1980)
2. Weak economic activity
3. The invasion of Afghanistan by the Soviet Union
These three things conspired to lift the price of gold to heights that had never seen before.
--
As the world continues to nervously contemplate the future direction of the global economy, the price of gold will likely continue to trend higher. Fear is great for the price of gold, and there is plenty of fear throughout the world right now.
How high will gold go?
George Soros believes that gold is in a bubble
right now, but doesn't deny the fact that it may continue to rise in the short-term.
Many other high profile money managers are still steadfast gold bulls, with some believing the the price of gold could double, triple or even quadruple over the coming years.
How high do you think gold will go?
Filed under:
The Economic Meltdown