Which States Have Posted The Largest Increases In Their Unemployment Rates Since December of 2007?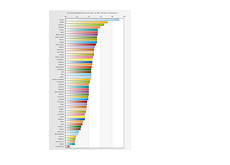 The general consensus is that the "Great Recession" started in December of 2007.
At the time, the national unemployment rate was just 4.9%. Fast forward three years, and this rate has nearly doubled.
Given how high the national unemployment rate is now, it is almost hard to fathom that the country had less than 5% unemployment just three years ago.
Which state has been hit the hardest from December 2007 to September 2010? The answer to that question is Nevada - in December of 2007, the state of Nevada had an unemployment rate of just 5.2%. Nearly 3 years later, and their rate has jumped to 14.4%. The city of Las Vegas has been hit even harder, as they posted an unemployment rate of 15% in September of 2010. Three years ago, Las Vegas was a boom town. Workers from all over the country were being lured in by lucrative construction opportunities, as there were multiple billion dollar plus projects on the go in the city. Then the "Great Recession" hit, many of these projects were delayed/scrapped, and the unemployment rate in the city skyrocketed.
The state that has been least affected by the economic downturn? North Dakota. In December of 2007, North Dakota posted an unemployment rate of 3%. In September of 2010, North Dakota's unemployment rate was just 3.7%. After one of the worst economic downturns in the history of the United States, the needle has barely moved when it comes to North Dakota's unemployment rate.
--
I thought that I would break down the changes in state unemployment rates (including Puerto Rico and the District of Columbia) between December of 2007 and September of 2010.
The first batch of information will list the % difference in the state unemployment rates between December of 2007 and September of 2010. For instance, if a state posted an unemployment rate of 10% in September of 2010 and an unemployment rate of 5% in December of 2007, then their unemployment rate will have gone up 100% over that time:
Nevada
September, 2010 - 14.40%
December, 2007 - 5.20%
% Change: 177.00%
Idaho
September, 2010 - 9.00%
December, 2007 - 3.50%
% Change: 157.00%
Florida
September, 2010 - 11.90%
December, 2007 - 4.70%
% Change: 153.00%
Wyoming
September, 2010 - 6.80%
December, 2007 - 2.80%
% Change: 143.00%
Utah
September, 2010 - 7.50%
December, 2007 - 3.10%
% Change: 142.00%
West Virginia
September, 2010 - 9.20%
December, 2007 - 4.00%
% Change: 130.00%
New Mexico
September, 2010 - 8.20%
December, 2007 - 3.60%
% Change: 128.00%
Alabama
September, 2010 - 8.90%
December, 2007 - 3.90%
% Change: 128.00%
Arizona
September, 2010 - 9.70%
December, 2007 - 4.30%
% Change: 126.00%
Delaware
September, 2010 - 8.40%
December, 2007 - 3.80%
% Change: 121.00%
Indiana
September, 2010 - 10.10%
December, 2007 - 4.60%
% Change: 120.00%
Maryland
September, 2010 - 7.50%
December, 2007 - 3.50%
% Change: 114.00%
California
September, 2010 - 12.40%
December, 2007 - 5.80%
% Change: 114.00%
Virginia
September, 2010 - 6.80%
December, 2007 - 3.20%
% Change: 113.00%
Hawaii
September, 2010 - 6.30%
December, 2007 - 3.00%
% Change: 110.00%
New Jersey
September, 2010 - 9.40%
December, 2007 - 4.50%
% Change: 109.00%
Louisiana
September, 2010 - 7.80%
December, 2007 - 3.80%
% Change: 105.00%
Oregon
September, 2010 - 10.60%
December, 2007 - 5.20%
% Change: 104.00%
Pennsylvania
September, 2010 - 9.00%
December, 2007 - 4.50%
% Change: 100.00%
North Carolina
September, 2010 - 9.60%
December, 2007 - 4.90%
% Change: 96.00%
South Carolina
September, 2010 - 11.00%
December, 2007 - 5.60%
% Change: 96.00%
Washington
September, 2010 - 9.00%
December, 2007 - 4.60%
% Change: 96.00%
Georgia
September, 2010 - 10.00%
December, 2007 - 5.10%
% Change: 96.00%
Oklahoma
September, 2010 - 6.90%
December, 2007 - 3.60%
% Change: 92.00%
Rhode Island
September, 2010 - 11.50%
December, 2007 - 6.00%
% Change: 92.00%
Massachusetts
September, 2010 - 8.40%
December, 2007 - 4.40%
% Change: 91.00%
Colorado
September, 2010 - 8.20%
December, 2007 - 4.30%
% Change: 91.00%
Montana
September, 2010 - 7.40%
December, 2007 - 3.90%
% Change: 90.00%
Connecticut
September, 2010 - 9.10%
December, 2007 - 4.90%
% Change: 86.00%
Kentucky
September, 2010 - 10.10%
December, 2007 - 5.50%
% Change: 84.00%
Texas
September, 2010 - 8.10%
December, 2007 - 4.40%
% Change: 84.00%
Michigan
September, 2010 - 13.00%
December, 2007 - 7.10%
% Change: 83.00%
Illinois
September, 2010 - 9.90%
December, 2007 - 5.50%
% Change: 80.00%
Ohio
September, 2010 - 10.00%
December, 2007 - 5.60%
% Change: 79.00%
District of Columbia
September, 2010 - 9.80%
December, 2007 - 5.50%
% Change: 78.00%
New York
September, 2010 - 8.30%
December, 2007 - 4.70%
% Change: 77.00%
Missouri
September, 2010 - 9.30%
December, 2007 - 5.30%
% Change: 75.00%
Iowa
September, 2010 - 6.80%
December, 2007 - 3.90%
% Change: 74.00%
Wisconsin
September, 2010 - 7.80%
December, 2007 - 4.50%
% Change: 73.00%
Tennessee
September, 2010 - 9.40%
December, 2007 - 5.50%
% Change: 71.00%
Kansas
September, 2010 - 6.60%
December, 2007 - 4.00%
% Change: 65.00%
Maine
September, 2010 - 7.70%
December, 2007 - 4.70%
% Change: 64.00%
New Hampshire
September, 2010 - 5.50%
December, 2007 - 3.40%
% Change: 62.00%
Mississippi
September, 2010 - 9.80%
December, 2007 - 6.10%
% Change: 61.00%
Nebraska
September, 2010 - 4.60%
December, 2007 - 2.90%
% Change: 59.00%
South Dakota
September, 2010 - 4.40%
December, 2007 - 2.80%
% Change: 57.00%
Arkansas
September, 2010 - 7.70%
December, 2007 - 5.00%
% Change: 54.00%
Minnesota
September, 2010 - 7.00%
December, 2007 - 4.70%
% Change: 49.00%
Vermont
September, 2010 - 5.80%
December, 2007 - 4.00%
% Change: 45.00%
Puerto Rico
September, 2010 - 16.00%
December, 2007 - 11.10%
% Change: 44.00%
Alaska
September, 2010 - 7.80%
December, 2007 - 6.20%
% Change: 26.00%
North Dakota
September, 2010 - 3.70%
December, 2007 - 3.00%
% Change: 23.00%
--
Ok, now let's look at the difference in the rates by just subtracting the December of 2007 rates from the September of 2010 rates, to see the differences there:
Nevada
September, 2010 - 14.40%
December, 2007 - 5.20%
% Change: 9.20%
Florida
September, 2010 - 11.90%
December, 2007 - 4.70%
% Change: 7.20%
California
September, 2010 - 12.40%
December, 2007 - 5.80%
% Change: 6.60%
Michigan
September, 2010 - 13.00%
December, 2007 - 7.10%
% Change: 5.90%
Indiana
September, 2010 - 10.10%
December, 2007 - 4.60%
% Change: 5.50%
Idaho
September, 2010 - 9.00%
December, 2007 - 3.50%
% Change: 5.50%
Rhode Island
September, 2010 - 11.50%
December, 2007 - 6.00%
% Change: 5.50%
South Carolina
September, 2010 - 11.00%
December, 2007 - 5.60%
% Change: 5.40%
Arizona
September, 2010 - 9.70%
December, 2007 - 4.30%
% Change: 5.40%
Oregon
September, 2010 - 10.60%
December, 2007 - 5.20%
% Change: 5.40%
West Virginia
September, 2010 - 9.20%
December, 2007 - 4.00%
% Change: 5.20%
Alabama
September, 2010 - 8.90%
December, 2007 - 3.90%
% Change: 5.00%
Puerto Rico
September, 2010 - 16.00%
December, 2007 - 11.10%
% Change: 4.90%
New Jersey
September, 2010 - 9.40%
December, 2007 - 4.50%
% Change: 4.90%
Georgia
September, 2010 - 10.00%
December, 2007 - 5.10%
% Change: 4.90%
North Carolina
September, 2010 - 9.60%
December, 2007 - 4.90%
% Change: 4.70%
New Mexico
September, 2010 - 8.20%
December, 2007 - 3.60%
% Change: 4.60%
Kentucky
September, 2010 - 10.10%
December, 2007 - 5.50%
% Change: 4.60%
Delaware
September, 2010 - 8.40%
December, 2007 - 3.80%
% Change: 4.60%
Pennsylvania
September, 2010 - 9.00%
December, 2007 - 4.50%
% Change: 4.50%
Washington
September, 2010 - 9.00%
December, 2007 - 4.60%
% Change: 4.40%
Utah
September, 2010 - 7.50%
December, 2007 - 3.10%
% Change: 4.40%
Ohio
September, 2010 - 10.00%
December, 2007 - 5.60%
% Change: 4.40%
Illinois
September, 2010 - 9.90%
December, 2007 - 5.50%
% Change: 4.40%
District of Columbia
September, 2010 - 9.80%
December, 2007 - 5.50%
% Change: 4.30%
Connecticut
September, 2010 - 9.10%
December, 2007 - 4.90%
% Change: 4.20%
Wyoming
September, 2010 - 6.80%
December, 2007 - 2.80%
% Change: 4.00%
Louisiana
September, 2010 - 7.80%
December, 2007 - 3.80%
% Change: 4.00%
Maryland
September, 2010 - 7.50%
December, 2007 - 3.50%
% Change: 4.00%
Massachusetts
September, 2010 - 8.40%
December, 2007 - 4.40%
% Change: 4.00%
Missouri
September, 2010 - 9.30%
December, 2007 - 5.30%
% Change: 4.00%
Tennessee
September, 2010 - 9.40%
December, 2007 - 5.50%
% Change: 3.90%
Colorado
September, 2010 - 8.20%
December, 2007 - 4.30%
% Change: 3.90%
Mississippi
September, 2010 - 9.80%
December, 2007 - 6.10%
% Change: 3.70%
Texas
September, 2010 - 8.10%
December, 2007 - 4.40%
% Change: 3.70%
New York
September, 2010 - 8.30%
December, 2007 - 4.70%
% Change: 3.60%
Virginia
September, 2010 - 6.80%
December, 2007 - 3.20%
% Change: 3.60%
Montana
September, 2010 - 7.40%
December, 2007 - 3.90%
% Change: 3.50%
Wisconsin
September, 2010 - 7.80%
December, 2007 - 4.50%
% Change: 3.30%
Hawaii
September, 2010 - 6.30%
December, 2007 - 3.00%
% Change: 3.30%
Oklahoma
September, 2010 - 6.90%
December, 2007 - 3.60%
% Change: 3.30%
Maine
September, 2010 - 7.70%
December, 2007 - 4.70%
% Change: 3.00%
Iowa
September, 2010 - 6.80%
December, 2007 - 3.90%
% Change: 2.90%
Arkansas
September, 2010 - 7.70%
December, 2007 - 5.00%
% Change: 2.70%
Kansas
September, 2010 - 6.60%
December, 2007 - 4.00%
% Change: 2.60%
Minnesota
September, 2010 - 7.00%
December, 2007 - 4.70%
% Change: 2.30%
New Hampshire
September, 2010 - 5.50%
December, 2007 - 3.40%
% Change: 2.10%
Vermont
September, 2010 - 5.80%
December, 2007 - 4.00%
% Change: 1.80%
Nebraska
September, 2010 - 4.60%
December, 2007 - 2.90%
% Change: 1.70%
South Dakota
September, 2010 - 4.40%
December, 2007 - 2.80%
% Change: 1.60%
Alaska
September, 2010 - 7.80%
December, 2007 - 6.20%
% Change: 1.60%
North Dakota
September, 2010 - 3.70%
December, 2007 - 3.00%
% Change: 0.70%
Source: Davemanuel.com -
Historical State Unemployment Rates
Source: Davemanuel.com -
Historical US Unemployment Rates
Filed under:
The Economic Meltdown