Increasing Online Job Offers Another Sign That Economy Is Finally Turning The Corner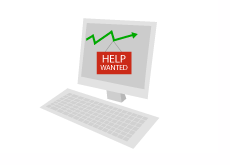 According to the Wall Street Journal (via data collected by Indeed Inc.), online job offers have rebounded strongly over the past 12-18 months in yet another sign that the slumbering US economy may finally be waking from a three-year hibernation.
According to Indeed.com, the number of US job postings on the Internet rose to 4.7 million on December 1st, 2010. This is nearly double the total as of this time last year (2.7 million, December 1st 2009) and the highest number posted since the start of the "Great Recession" in December of 2007.
The data from Indeed.com claims that many of the new job postings are coming from these industries:
-retailing
-accounting
-consulting
-health care
-telecommunications
-defense-related industries
--
For the first time in almost three years, it seems as though a sense of optimism may be finally creeping into the mindset of the average American. American consumers have increased their spending for five straight months. Households are saving less of their money as worry starts to abate (even slightly) about the near-term future of the US economy. Economists are starting to turn more positive. Companies are stepping up orders for equipment. The majority of market prognosticators seem to agree that the markets are poised for a continued upswing in 2011.
I've definitely had a predilection for posting bad news on this site over the past three years, but to be fair, the economic news flow has been pretty gloomy, to put it nicely.
Having said that, it certainly appears as though 2011 may finally offer more in the way of positive economic news, which is music to the ears of the average US citizen who has been flayed and spindled over the past 3 years.
Source: WSJ.com -
Job Offers Rising as Economy Warms Up
Filed under:
General Knowledge