Food Prices Continue To Soar With No End In Sight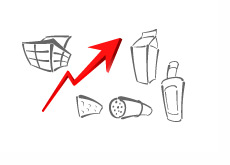 According to the FAO (Food and Agriculture Organization of the United Nations), global food prices hit record levels in January on both a nominal and real dollar basis.
The FAO publishes something called the "FAO Food Price Index", which is a "measure of the monthly change in international prices of a basket of food commodities". The FAO Price Index "consists of the average of five commodity group price indices", which includes the FAO Cereal Price Index, the FAO Oils/Fats Price Index, the FAO Dairy Price Index, the FAO Sugar Price Index and the FAO Meat Price Index.
The FAO Food Price Index averaged 230.7 points in January, up from 223.1 points in December. 230.7 points is a new all-time high for the index, besting the 224.1 point mark that was posted in June of 2008.
The Food Price Index has increased dramatically since January of 2010. Let's look at the numbers:
Jan/10 - 180
Feb/10 - 176
Mar/10 - 168
Apr/10 - 170
May/10 - 170
Jun/10 - 168
Jul/10 - 172
Aug/10 - 183
Sep/10 - 194
Oct/10 - 205
Nov/10 - 213
Dec/10 - 223
Jan/11 - 231
This increase in food prices has left a number of countries, especially those located in north Africa and the Middle East, scrambling for ways to quell unrest. Countries such as Libya and Jordan have either cut prices of staple foods or cut food taxes/duties in order to soften the blow.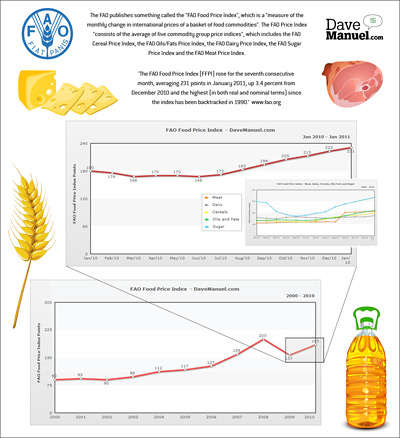 Four of the five commodity food price indices that the FAO tracks increased dramatically in January.
Let's look at the numbers:
FAO Cereal Index, +3%
FAO Oils/Fats index, +5.6%
FAO Dairy Index, +6.2%
FAO Sugar Index, +5.4%
The FAO Meat Index was unchanged in January thanks to a "feed contamination" in Europe.
--
Tight supplies and "firm" global demand have conspired to lift the FAO Food Price Index to record levels.
FAO economist and grains expert Abdolreza Abbassian expects more of the same in coming months:
"These high prices are likely to persist in the months to come."
Source: FAO.org -
FAO Food Price Index
Filed under:
The Economic Meltdown