China Passed Japan in 2010 To Become The World's Second-Largest Economy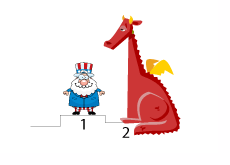 According to the Wall Street Journal, China passed Japan in 2010 to become the world's second-largesst economy.
Early Monday morning, Japan reported that their economy had contracted at an annualized rate of 1.1% in the fourth quarter of 2010. This put Japan's full-year GDP at $5.47 trillion, well behind the $5.88 trillion full-year GDP number that China had reported earlier in the year.
The United States recently reported that their 2010 GDP was $14.66 trillion.
--
This marks the end of an era for Japan, as they had been the world's second-largest economy since passing West Germany back in 1967.
In 1995, Japan reported a full-year GDP number of over $5.26 trillion (nominal dollars).
In the same year, China reported a full-year GDP number of $728 billion, making them the eighth largest economy in the world at the time.
Over the past 10 years, China has seen their economic growth accelerate at an unbelievable pace while Japan has stagnated.
--
It should be noted that China is far behind both Japan and the United States when it comes to per capita GDP.
According to the World Bank, the United States posted a per capita GDP number of $46,436 in 2009. Japan, which possessed the world's second economy at the time, posted a per capita GDP number of $39,727.
China, on the other hand, posted a per capita GDP number of just $3,744 in 2009. According to the World Bank, more than 100 million Chinese citizens live on less than $2 per day.
China's population (over 1.34 billion people) dwarfs both the United States (over 312 million people) and Japan (over 127 million people). China's massive population is one of the key contributors to their unbelievable GDP growth over the past decade.
--
In case you were wondering,
Goldman Sachs estimated back in 2007
that China would pass the United States to become the world's largest economy sometime between 2025 and 2030.
Source: WSJ.com -
Rising China Bests a Shrinking Japan
Filed under:
General Knowledge