Berkshire Hathaway Dumped Eight Positions During The Fourth Quarter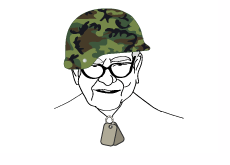 Does Warren Buffett think that stock market valuations are too high right now? Berkshire Hathaway's actions over the past few quarters would certainly seem to indicate so.
Berkshire Hathaway continued to take the axe to their portfolio during the fourth quarter of 2010, dumping a total of eight of their positions.
The companies that got dropped by Berkshire Hathaway during Q4 were:
Bank of America (BAC)
Becton Dickinson and Co. (BDX)
Comcast Corp. (CMCSA)
Fiserv Inc. (FISV)
Lowe's Cos. LOW
Nalco Holding (NLC)
Nestle Ltd. (NSRGY)
Nike (NKE)
All eight of these stocks posted gains during the fourth quarter of 2010, with five of the eight posting double-digit percentage gains.
These moves come just a quarter after Berkshire Hathaway dumped their stakes in Republic Services Inc. (RSG), Iron Mountain Inc. (IRM), CarMax, Inc. (KMX), NRG Energy Inc. (NRG) and Home Depot Inc. (HD).
--
In Q3 of 2010,
Berkshire Hathaway
continued to add to their large Wells Fargo + Co. (WFC) position.
In Q4 of 2010, the trend continued, with Berkshire Hathaway electing to add an additional 6 million shares of WFC. Berkshire Hathaway now owns more than 342 million shares of Wells Fargo.
--
Berkshire Hathaway and its associated companies now own stakes in a total of 25 publicly traded companies. Many of these companies are the "traditional" Berkshire Hathaway holdings, including the likes of American Express, Coca Cola and Johnson and Johnson.
Based on his actions over the past few quarters. it definitely appears as though Warren Buffett is turning defensive and is concerned about rising valuations.
Filed under:
General Market News