Review of Hulbert Financial Digest
Click Here To Receive a Free 30 Day Trial of Hulbert Interactive
The Hulbert Financial Digest is not your typical newsletter.
Almost all of the investment newsletters on the market will tell you what you should buy and sell. "Buy XYZ".. "Sell ABC".. well, the Hulbert Financial Digest is not like that.

Instead, the Hulbert Financial Digest rates some of the most newsletters that are currently on the market. Which newsletters have consistently outperformed the S+P 500? Which newsletters are filled with empty promises and misleading results? Which newsletters deserve your money, and which newsletters should be avoided?
Mark Hulbert looks to answer these questions in "The Hulbert Financial Digest". The idea for the Hulbert Financial Digest was conceived back in the late '70s when Mark Hulbert was attending an investment seminar. A number of newsletter editors promised Hulbert the moon, claiming that they could double, triple or even quadruple his money with little to no risk. Hulbert, intrigued, decided that he would track the performance of these newsletters on his own to see if they were the real deal or just full of hot air. The Hulbert Financial Digest was born.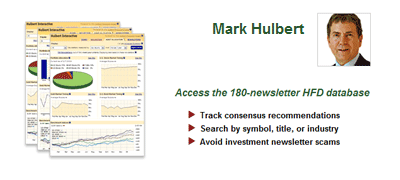 Over thirty years later, the Hulbert Financial Digest is still going strong. Hulbert currently tracks 180 stock and mutual fund letters in his database, and more than 500 total recommended portfolios.
Before you sign up for that newsletter that you've had your eye on, you need to sign up to the Hulbert Financial Digest first.
I would personally recommend signing up for "Hulbert Interactive" and giving the service a trial run. They offer a free 30 day trial that you can use to evaluate the service with no risk. If you are not happy with the service, simply cancel before the 30 day free trial period is up and your credit card will not be cancelled.
"Hulbert Interactive" contains all of the information of the "Hulbert Financial Digest", but it is simply presented online in an easily searchable format. The "Hulbert Financial Digest", on the other hand, is sent via email every month. While "Hulbert Interactive", you get 24-hour access to the "Hulbert Financial Digest" database. "Hulbert Interactive" lets you track consensus recommendations and search by symbol, title or industry - it is really an invaluable tool if you are serious about investing.
--
Simply click on the link below to qualify for your free 30 day trial:
Click Here to Receive a Free 30 Day Trial of Hulbert Interactive
Filed under:
Company Reviews