February New-Home Sales Slump To Annualized Rate of Just 250,000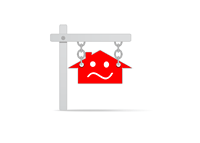 According to estimates released jointly by the US Census Bureau and the Department of Housing and Urban Development earlier today, sales of new single-family homes in the United States fell to a seasonally adjusted annual rate of just 250,000 in February.
This is the slowest pace of new-home sales on record (going back approximately 50 years).
February's annualized rate of 250,000 new single-family home sales is down 16.9% from January (301,000) and 28% from February of 2010 (347,000).
The median sales price of a new home sold in February 2011 was $202,100, while the average sales price was $246,000.
At the current sales rate, it would take approximately 9 months (8.9 months to be exact) to clear the existing supply of new homes off the market. Economists state that a six-month supply is healthy and ideal.
--
So exactly how bad was February's new-home sales number?
According to this Reuters article
, economists view a 700,000-a-year pace for new-home sales as being healthy.
--
The usual suspects have conspired to keep new home sales low.
High unemployment rates and general unease over the US economy have people worried enough to forego the purchase of a new home.
Tight credit markets have made it harder for people to secure the mortgage necessary to buy a new home.
Large numbers of foreclosures have lowered the prices of previously occupied homes, which have made them much more affordable and enticing for home buyers.
On top of all of that, higher energy and food prices have altered the budget of the typical American family, which has forced many to delay the planned purchase of a new home.
--
Will things meaningfully improve anytime soon? Probably not.
Source: Census.gov -
New Residential Sales in February 2011 (*.pdf)
Filed under:
Real Estate News