US Posts $1 Trillion+ Deficit for Third Straight Year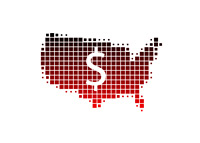 It's official - the US government has posted a trillion dollar deficit for the third straight year.
According to the Treasury Department, the federal budget deficit through the first 10 months of the fiscal year was $1.1 trillion. The US government has said that it is expecting a final deficit number of somewhere north of $1.4 trillion by the time that the 2011 fiscal year comes to an end.
Let's look at the last three years:
2009 - $1.416 trillion deficit
2010 - $1.294 trillion deficit
2011 - $1.1 trillion deficit (through first 10 months of 2011 fiscal year)
Compare these numbers to 1999, 2000 and 2001:
1999 - $125.6 billion surplus
2000 - $236.4 billion surplus
2001 - $127.3 billion surplus
It seems like it was just yesterday when the US economy was purring like a kitten and the national unemployment rate was under 4%. Times have changed.
--
Things go from gloomy to positively depressing when you look at the CBO's deficit projections for the next decade:
2012 - $1.1 trillion
2013 - $704 billion
2014 - $533 billion
2015 - $551 billion
2016 - $659 billion
2017 - $617 billion
2018 - $610 billion
2019 - $696 billion
2020 - $739 billion
2021 - $763 billion
Source:
History of Deficits and Surpluses in the US
Source: CBO.gov -
The Budget and Economic Outlook: Fiscal Years 2011 to 2021 (*.pdf)
Filed under:
The Economic Meltdown