Whitney Tilson Goes Long on Netflix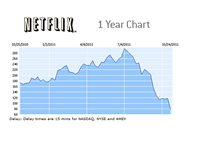 Remember when Whitney Tilson and Reed Hastings engaged each other in a public battle (albeit friendly) over whether or not Netflix was overvalued?
Tilson, founder and managing partner of T2 Partners LLC, issued a 22 page document late last year titled "Why We're Short Netflix". Netflix was trading at $178.05/share at the time, and Tilson claimed that the company was facing a number of different challenges (increased cost of acquiring content, increased competition, etc) that would weigh on shares in the future.
Reed Hastings, CEO of Netflix, responded to the report, claiming that "shorting a market leading firm as it is driving a huge new market is a very gutsy call". Hastings defended his company (as you would expect), stating that "odds are he (Tilson) is wrong on all" of the points that the T2 Partners LLC founder and managing partner brought up. Source:
Netflix vs T2 Partners LLC
Fast forward to February of 2011. As Netflix sailed past $200 and into the $230s,
Tilson threw in the towel
on his Netflix short trade. The reasons why Tilson capitulated on his Netflix short just months after his public clash with Hastings?
1. A stronger than expected quarter from Netflix
2. Higher than expected customer satisfaction rates from Netflix
3. Feedback from the public investing community.
--
Netflix would end up cruising past the $300 market earlier this summer, hitting a high of $304.79.
If Tilson had held his short through the summer, he would have been in a (temporary) world of hurt. At the time, it seemed as though Tilson had made a very savvy decision by covering his short.
Fast forward to present day. Netflix has been decimated in recent months, and traded down an additional 35% today after reporting their Q3 earnings. The company has been destroyed after an ill-fated decision to split their product offering raised the ire of many of their customers. Many customers elected to cancel their memberships - Netflix lost over 800k customers during the third quarter. A disaster for a company that used to have a rabid following.
T2 Partners LLC would have been up roughly $100/share (depending on when they initiated their position) on their short position if they had elected to hold through the
parabolic rise
earlier this year.
--
Given all of the problems that Netflix is currently facing, is Tilson planning on re-entering his short? Hardly.
Instead, Tilson and T2 Partners LLC are now LONG Netflix.
According to Bloomberg.com
, the T2 Partners LLC hedge fund opened up a "small long" position in Netflix and will be adding on any continued weakness. Tilson said that he decided to start buying shares of Netflix because he thought that they were "cheap".
--
Tilson was very right on Netflix (his original investment thesis anyways), but his timing was very wrong.
What do you think - is Netflix a buy right now, or should the company be avoided at all costs?
Filed under:
General Knowledge