WSJ Digital Plus Free Eight Weeks
Click Here to Save Over 40% Off WSJ Digital Plus and Print
It's the 21st century and Wall Street Journal has finally made their full suite of offerings available online. 
WSJ Digital Plus gives you full access to the Wall Street Journal through:
1) The Web (Desktop or Laptop)
2) Tablet devices
3) Mobile devices
You will also receive unlimited access to all of the WSJ tablet and smartphone apps with this subscription. 
On top of all of that, Wall Street Journal will also send you the print edition of their paper.
So, whether you are sitting at home on a Sunday morning, making your early morning commute on a work day or lying on a beach in your favorite vacation spot, you will be able to access the latest articles from the Wall Street Journal from a laptop, desktop, tablet or smartphone. That's the WSJ Digital Plus product. 
The Wall Street Journal is currently offering
free eight weeks
if you sign up for the WSJ Digital Plus + Print subscription today.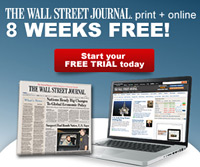 Click here to take advantage of that offer
. 
If you would just like to sign up for the WSJ Digital Plus plan, you will receive four free weeks.

Please click here to take advantage of that offer
. 
--
Whether you are wanting to read the latest market news from your home computer, favorite chair, iPad or iPhone, the Wall Street Journal has you covered. 
The cost? Just
71 cents
a day. 
Click Here to Save Over 40% Off WSJ Digital Plus and Print
Filed under:
Company Reviews