Obama's Approval Rating Rises as Unemployment Rate Drops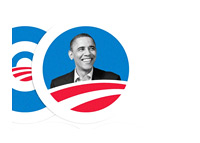 "It's the economy, stupid."
This phrase was uttered by the Democrats time and time again during the run-up to the 1992 Presidential election.
George H.W. Bush was considered a lock to win a second term as President when the first Gulf War ended. The very next year, Bill Clinton took the White House, winning by a substantial margin.
Despite his sky-high approval rating in 1991, George H.W. Bush was ultimately done in by a weak economy.
Many issues weigh heavy on the minds of average voters, but in the end, it's always the economy that rises to the top.
--
A few short months ago, things weren't looking very good for President Obama and his 2012 re-election campaign.
The national unemployment rate seemed frozen at 9.1% and Obama's approval rating was stuck in the low 40s. From a historical perspective, the chances of Obama winning a second term weren't very high, given his very low approval rating.
In November, the national unemployment rate dropped from 9% down to 8.6%. In December, more improvement - 8.5%.
As the national unemployment rate drops, Obama's approval rating increases. After dropping as low as 38% in both late August and mid-October, Obama's approval rating now sits at 46%.
The economy has now added jobs for six months in a row, and the national unemployment rate is the lowest its been since March of 2009.
The question is - will this be enough to put Obama over the top in November?
Filed under:
General Knowledge