A Look at Newt Gingrich's Holdings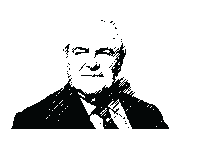 Presidential candidates are required to file something called an Executive Branch Personnel Public Financial Disclosure report. This report requires the listing of any assets, sources of income, positions held outside of the government, liabilities and several other pieces of information.
Republican Presidential candidate Newt Gingrich filed his disclosure report on July 14th, 2011.
According to the report, Newt Gingrich has a net worth of between $6,132,071 and $30,126,997 (note: asset values and amounts of income are given in ranges, so exact numbers aren't available). So, Newt Gingrich's total net worth is somewhere between those two numbers listed above.
Gingrich's largest asset (by far) is a convertible promissory note from the Gingrich Group, LLC to Gingrich Productions, Inc. This asset is valued at between $5,000,001 and $25,000,000.
Let's take a look at Gingrich's other assets that are worth at least $100k:
Gingrich Productions ($500,001 - $1,000,000)
Alliance Bernstein (401k) 2010 Ret Strategy R ($500,001 - $1,000,000)
WellsFargo Checking and Savings ($250,001 - $500,000)
Fidelity Short Interest Municipal Income Fund, ($100,001 - $250,000)
Columbus Bank CD ($100,001 - $250,000)
Medallion CD ($100,001 - $250,000)
Congressional Federal Credit Union ($100,001 - $250,000)
GE Money Bank CD ($100,001 - $250,000)
Medallion Bank CD ($100,001 - $250,000)
Gingrich also owns a rental home (located in Whitehall, Wisconsin) and multiple small positions in private companies through the Draper Fisher Jurvetson Fund VIII.
Gingrich had a mortgage on his rental property of between $15,001 and $50,000 in 2010.
Another interesting piece of information - Gingrich owed Tiffany & Co. between $500,001 and $1,000,000 sometime in 2010, but that account was paid in full.
For a full list of Gingrich's assets in 2010, click on the link below:
Source:
Newt Gingrich Net Worth
Filed under:
General Knowledge