Rick Santorum Surges In Polls Over Past Five Days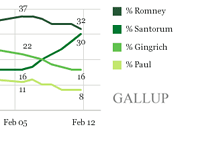 Just one short week ago, Mitt Romney appeared to have a chokehold on the race for the Republican Presidential nomination. Romney was easily ahead in most nationwide polls, and he seemed to be building momentum after a convincing win in Florida.
What a difference one week (actually, five days) can make.
According to a recent Gallup.com poll, Rick Santorum has surged over the past five days and is now in a virtual deadlock with Mitt Romney. Other polls also tell the same story - Santorum has surged into contention over the past week following his wins in Colorado, Missouri and Minnesota.
How much has Rick Santorum surged? How about 14 points in the past 5 days? According to Gallup, Santorum was enjoying the support of 16% of Republican and Republican-leaning independents on Feb 7th. By February 12th, Santorumís support had surged to 30%, just behind Mitt Romney at 32%.
Letís take a look at the numbers from February 5th, and then compare them to the polling numbers from February 12th:
February 5th
Mitt Romney - 37%
Newt Gingrich - 22%
Rick Santorum - 16%
Ron Paul - 11%
February 12th
Mitt Romney - 32%
Rick Santorum
- 30%
Newt Gingrich - 16%
Ron Paul - 8%
Romney, who has been Mr. Slow and Steady since the beginning of his Presidential bid, has successfully beat back surges from Newt Gingrich, Herman Cain and Rick Perry. Can he do the same with Rick Santorum?
According to online prediction market Intrade.com, Romney is still a great bet to win the nomination:
Mitt Romney To Be Presidential Nominee - 75.4%
Rick Santorum To Be Presidential Nominee - 15.3%
The Santorum contract has surged over the past few days, while the Romney contract has pulled back from the mid 80s.
Santorum, Paul and Gingrich have all vowed to stay in the race until the end, and there is a reason why - anything can happen. A leader in the polls is just one gaffe away from losing their support, while somebody who seemingly has no chance of winning can reverse their fortunes in one strong weekend.
Source: Gallup.com -
Santorum Surges to Tie Romney
Source:
Intrade.com
Filed under:
General Knowledge