Romney Enjoys Large Lead Before Super Tuesday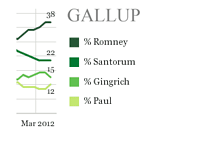 According to Gallup.com, Mitt Romney currently enjoys a 16 point lead over Rick Santorum in a poll of national Republican registered voters.
The latest Gallup poll, which was conducted between February 29th and March 4th, breaks down the race for the Republican nomination like this:
Mitt Romney - 38%
Rick Santorum - 22%
Newt Gingrich - 15%
Ron Paul - 12%
This is a pretty stunning reversal over less than two weeks ago when Santorum enjoyed a 10 point lead over Romney. According to Gallup, Santorum was leading Romney by 10 points as recently as February 20th.
This recent reversal continues the trend of Romney losing his top position in the polls to some hard-charging underdog (Perry, Cain, Gingrich), only to reclaim his spot at the top of the heap a short while later.
While other candidates have skyrocketed in the polls and then spectacularly flamed out, Romney has been able to stay near the top of the heap for the entirety of the race so far.
--
Most good news for Romney - according to Gallup, Romney's 38% support is the highest percentage that any candidate has enjoyed since Gallup Daily tracking of the race for the Republican nomination began in late 2011.
Most worrying for the Santorum campaign must be the fact that Romney currently enjoys a national 32-31% lead amongst church-going Republicans.
--
Super Tuesday is now just a few hours away. Will Romney be able to solidify his standing as the clear favorite for the Republican Presidential nomination, or will the race be thrown into disarray once again?
Source: Gallup.com -
Romney Advances Lead Over Santorum
Filed under:
General Knowledge