Michigan's Unemployment Rate Continues To Drop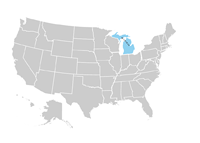 According to the BLS (Bureau of Labor Statistics), Michigan's unemployment rate dropped to 9.3% in December of 2011, which is the lowest level that it has been at since September of 2008.
Economic turmoil and trouble at the nation's leading car manufacturers resulted in Michigan's unemployment rate spiking in late 2008/2009 - in December of 2009, Michigan had an unemployment rate of 14.5%, which was easily the highest in the nation at the time.
In the first half of 2010, the state's unemployment rate held firm at around 14% before starting to drop precipitously in the second half of the year. By the end of 2010, Michigan's unemployment rate had dropped to 11.7%, and the state no longer had the distinction of having the highest unemployment rate in the country.
Michigan's unemployment rate continued to drop in 2011, starting the year at 10.7% (January) and finishing the year at 9.3% (December). Michigan is no longer in the top five when it comes to highest state unemployment rates in the nation, and they are only 1% higher than the national average.
According to the BLS, Michigan had 4,199,398 people that were counted as being employed in December of 2011, and 431,033 unemployed workers. In December of 2009, Michigan had 4,136,416 employed workers and 699,663 people that were officially counted as being unemployed.
There are a number of factors that have resulted in a steadily dropping unemployment rate in Michigan. First off, the rebound in the auto manufacturers and growth in "clean energy" jobs have helped to stabilize the employment situation in Michigan - the state added jobs for the first time since 2000 last year.
In addition, many workers a) retired b) gave up looking for work c) moved to another state over the past few years, which has helped to bring down Michigan's unemployment rate as well.
In addition, a general increase in economic activity nationwide has helped to put some Michigan residents back to work as well.
After a "decade of hell", Michigan's prospects are looking much brighter, thanks in large part to the renewed health of the nation's automakers and an increase in clean energy jobs.
Source:
State Unemployment Rates
Filed under:
General Knowledge