$5+/Gallon Gasoline Would Force Many Americans To Make Serious Changes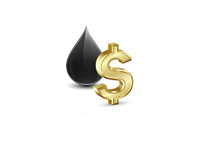 According to a recent Gallup.com poll, the average American would need to make serious "life changes" if the price of a gallon of gasoline hit $5.30.
Gallup asked the question - how high would the price of a gallon of gasoline have to go in order to force significant lifestyle changes and cutbacks?
Of those surveyed, 30% said that gasoline hitting $5.00/gallon would be the tipping point that would cause significant changes in their lives. 28% said anywhere between $4.00/$4.99 gallon would force major life adjustments, with just 8% saying that significant changes would result from a gallon of gasoline costing between $6.00/$6.99.
According to Gallup.com, the average response was between $5.30 and $5.35 a gallon.
Given that the average cost of a gallon of gasoline is currently $3.789, there is at least a decent chance that the country sees $5/gallon gasoline by the summer, especially if the uneasy situation with Iran continues.
Since the start of 2012, the average nationwide price of a gallon of regular gasoline has increased from $3.26 to its current level of $3.79.
In many major cities on the West Coast, a gallon of regular gasoline is already far more than $4/gallon. Los Angeles, San Francisco and San Jose residents are already paying in excess of $4.30/gallon. In addition, residents of New York City just recently saw the average price of a gallon of regular gasoline break the $4/gallon mark.
In short - gasoline is already reaching the "tipping point" for many Americans, and things are expected to get worse through the spring and summer months.
Source: Gallup.com -
In U.S., $5.30 Gas Would Force Major Life Changes
Filed under:
The Economic Meltdown