Mitt Romney vs Barack Obama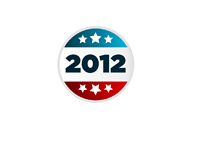 Earlier today, Gallup.com (link below) revealed their first Gallup Daily tracking results for the current Presidential election cycle.
Gallup.com started the Gallup Daily tracking results after Rick Santorum elected to suspend his campaign, which all but guarantees that Mitt Romney will secure the Republican Presidential nomination this year.
2,265 registered voters, including Democrats, Republicans and Independents, were asked this question between April 11th and April 15th:
"Suppose the presidential election were held today. If Barack Obama were the Democratic Party's candidate and former Massachusetts governor Mitt Romney were the Republican Party's candidate, who would you vote for?"
Here is how the responses broke down:
Mitt Romney - 47%
Barack Obama - 45%
Other - 2%
Neither/Don't Know/Refused: 7%
Now, here are the responses broken down by party:
Democrats
Obama - 90%
Romney - 6%
Other - n/a
Neither/Don't Know/Refused - 3%
Republicans
Romney - 90%
Obama - 6%
Other - 1%
Neither/Don't Know/Refused - 3%
Independents
Romney - 45%
Obama - 39%
Other - 4%
Neither/Don't Know/Refused - 12%
The most troubling number for Barack Obama's re-election campaign is the 45-39% lead that Romney currently enjoys amongst Independent voters.
--
Romney supporters seem to be a bit more eager to get out and vote this election year. According to Gallup.com, 80% of Romney voters will "definitely" vote in November, while 76% of Obama voters will "definitely" vote.
--
According to online prediction market
Intrade.com
, Barack Obama currently has a 61.1% chance of winning his re-election campaign.
Source: Gallup.com -
Romney, Obama in Tight Race as Gallup Daily Tracking Begins
Filed under:
General Knowledge