Apple Sold Over 35 Million iPhones in Second Quarter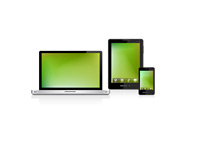 Are sales of the iPhone slowing down, as some analysts have warned in recent weeks and months?
Doesn't look like it.
Apple released their Q2/2012 earnings figures earlier today, and, as expected, the company sold a ridiculous number of iPhones, iPads, Macs and iPods in their most recent quarter.
How many exactly?
Here's a breakdown:
35.1 million iPhones
11.8 million iPads
4.0 million Macs
7.7 million iPods
These numbers are down slightly from Q1/2012 (which included the holiday season), but investors seem to overjoyed with the results nonetheless, as Apple is currently up over $40 (about 7.5%) in afterhours trading.
--
In their second quarter, Apple posted earnings per share of $12.30 (expectations were for $10.04/share) on revenues of $39.2 billion (expectations of $36.8 billion).
Apple now has a staggeringly high cash pile of $110 billion - the company announced earlier this month that they would soon start paying out a dividend to shareholders of $2.65 per quarter.
--
Apple's blowout quarter has many investors talking about a trillion dollar market capitalization for the company once again.
Filed under:
General Market News