Facebook Now Well Below IPO Price of $38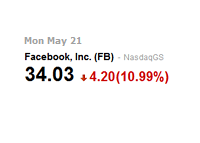 Facebook closed down 11% on its second day of trading today and is now trading nearly $4 below its initial offering price of $38 (FB closed at $34.03 today).
Today's price action was hardly a surprise - underwriters of the Facebook IPO gallantly held the stock above the $38 level on Friday, likely sinking billions of dollars of their own money to keep the stock above that level.
The important point? The market clearly didn't support Facebook trading at a level of over $38, and once the support from underwriters melted away, the stock tumbled nearly $5.
Facebook gapped down to $36.56 on Monday and continued to fall from there. After touching $33/share, Facebook bounced slightly and closed the day at $34.03.
Anybody who was able to secure Facebook shares in the initial public offering is now down over 10% on their investment, and anybody who bought Facebook shares off the open on Friday is now down nearly 20% in just two days.
This has been an embarrassing turn of events for Facebook and the companies that underwrote their initial public offering.
So what went wrong?
A few things, including:
1) Underwriters priced the stock too high. Underwriters want to maximize the amount of money that a company is able to raise, because that, in turn, maximizes the fees that they are able to collect. It's important, though, for an underwriter to not price the offering TOO high, or else the stock will quickly dip below its IPO price and you are left with a "
broken IPO
". A "broken IPO" is embarrassing for everybody involved. Ideally you would like a small "pop" on the day of the initial public offering - if the stock turns red, it means that the offering was priced too high, and if there is too much of a "pop", it means that money was left on the table for the company that is going public.
2)
Negative news
for Facebook close to the initial public offering. It probably didn't help that there was plenty of negative news flow for Facebook in the days and weeks leading up to their offering. GM pulled their lucrative ad campaign; Facebook's admitted that sales may not meet the most optimistic projections due to increased mobile usage; lower-than-expected demand from institutional investors was rumored. These three items certainly didn't help Facebook on its first two days of being a publicly traded company.
--
After two days of trading, Facebook is now a $93 billion company.
The buzz will die down over the coming days and weeks, and Facebook will now turn to the successful execution of their business model in order to re-inflate their share price.
Will we one day look back on this initial public offering and lament the fact that we didn't buy hand-over-fist (similar to Google), or will Facebook's IPO end up serving as the high watermark for the company?
Filed under:
General Market News