CNN: Mitt Romney Leads Obama in 15 Battleground States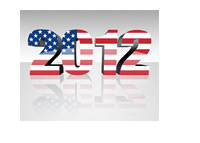 According to a new CNN/ORC International poll that was released earlier this week, President Obama maintains a slim 49%/46% lead over Mitt Romney nationally.
The bad news for Obama and his re-election bid? The same poll says that Romney enjoys a comfortable 51%/43% lead over President Obama in the "battleground" states.
"Battleground states", or "swing states" as they are also called, are states in which neither party can claim a decisive historical advantage. "Battleground states" can easily go either way in any election - for this reason, Presidential candidates will spend large amounts of time and money campaigning in these states, as they can swing the results either way.
The states that the CNN/ORC International poll listed as "swing states" are:
Arizona
Colorado
Florida
Indiana
Iowa
Michigan
Missouri
Nevada
New Hampshire
New Mexico
North Carolina
Ohio
Pennsylvania
Virginia
Wisconsin
Some other pieces of information from this survey:
-Romney leads Obama by 5 points amongst men
-Obama leads Romney by 11 points amongst women
-Romney leads Obama by 10 points amongst voters over the age of 50
-Obama leads Romney by 27 points amongst voters under the age of 35
--
While these numbers are certainly interesting, the CNN/ORC International poll contains a small sample size.
However, they certainly illustrate the tough fight that President Obama is going to have if he hopes to beat Mitt Romney in November.
Source: Yahoo.com -
Poll: Romney Claims Slight Edge in 15 Battleground States
Filed under:
General Knowledge