Facebook Trading At $24 in Afterhours Session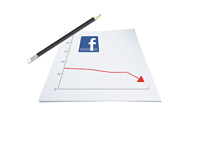 Many, many people bought shares of Facebook when the company first went public back in May.
On May 18th, after months and even years of hype, Facebook shares started trading at $42.05. There was a frenzy of trading on Facebook's first day as a publicly traded company - in fact, the trading was so frenzied that the Nasdaq stock exchange had problems processing all of the trades. The NASDAQ is still trying to sort out the mess over two months later.
After opening at $42.05, Facebook quickly shot up to $45 before rapidly retreating. Facebook had priced its shares at $38, and the company's underwriters spent billions trying to hold the stock above the crucial $38 level near the end of its first day of trading. They were successful, but it was clear that the stock wanted lower.
On the next day of trading (May 21st), underwriter support for the stock vanished and Facebook plummeted. The stock opened at $36.53 and ended the day at $34.03. Given the events of May 18th and the stock's decline on May 21st, people weren't happy at all and the news flow for Facebook was almost entirely negative.
Over the coming weeks, Facebook would slowly trade even lower. By June 5th, the stock was down in the $26s.
In late June, Facebook bounced a bit, managing to scratch and claw its way back up to the low $30s. Was the company finally recovering after a horrible initial public offering?
Facebook continued to bounce around in the low $30s until mid-July, when the $30 level was taken out once again. Prior to Zynga reporting their earnings on July 25th, Facebook was trading at $29.34 per share.
Zynga reported horrible earnings after the bell on Wednesday the 25th, missing earnings and sales targets and declaring that the rest of the year would be soft as well. Many analysts blamed the miss on an exodus of users from properties such as Farmville and Cityville. Seeing as Zynga is a valuable partner for Facebook, this news hit Facebook as well.
Facebook's first earnings report as a publicly traded company took place after the bell today (Thursday), and the result wasn't pretty. After briefly spiking after the company released the earnings report, Facebook turned south once again, and is currently down about 11% in after-hours trading. Facebook is currently trading for around $24 per share.
As mentioned, many people bought Facebook off the open on May 18th and have continued to hold through the last two months. These people are currently down approximately 43% on their investments. Even the people who were "lucky" enough to get shares of the initial public offering at $38 are down 37%.
Analysts and investors alike were spooked out by a few things in the company's earnings reports and subsequent conference call, including:
-slowing revenue growth
-concerns over Facebook's growing expenses
-lack of insight regarding company's mobile monetization plan
On the call, CEO Mark Zuckerberg said that the company is aggressively building out its mobile monetization capabilities, but both analysts and investors wanted more insight as to how this would be accomplished. One of the biggest problems that Facebook currently has is that more and more users are using their mobile devices to interact with the site, and this results in reduced monetization opportunities as you can only serve a limited amount of ads on mobile devices.
--
When Facebook opens for trading on Friday, the company will have a valuation of approximately $52 billion.
Is it a buy at that point, or do you think that the stock will fall some more?
Filed under:
Internet Companies