National Unemployment Rate Now Sits At 8.3%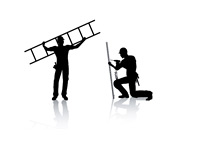 Earlier today, the Bureau of Labor Statistics (BLS) released the July employment numbers.
According to the BLS, total nonfarm employment increased by 163,000 last month, while the unemployment rate increased to 8.3%.
The national unemployment rate has now ticked up to tie its highs of the year (8.3% in both January and February) after hitting 8.1% in April.
The markets gapped up higher after the release, due to the fact that expectations for the nonfarm payroll number were for about +100,000 new jobs. The markets continued to ramp higher after the gap up and are poised to turn in one of their strongest days of the year.
Let's take a closer look at July's numbers:
--
-total non farm payroll increased by 163,000
-unemployment rate increased to 8.3%
-number of unemployed persons (12.8 million) little changed
-number of long-term unemployed (5.2 million) little changed
-number of persons employed part-time for economic reasons little changed at 8.2 million (note: these are people who want full-time work but can't find it due to either a) their hours being cut back or b) being unable to find a full-time job
-852,000 discouraged workers in July. These are people who have given up looking for work because they believe that there are no jobs available
-employment growth has averaged just over 150,000 per month in 2012
-the professional and business services industry added the most number of jobs in July (49,000)
-employment in food services and drinking places has increased by 292,000 over the past 12 months
-employment in industries such as construction and retail trade was essentially unchanged in July
-average hourly earnings for all employees on private nonfarm payrolls increased slightly to $23.52 in July (increase of 2 cents)
Source: BLS.gov -
Employment Situation Summary
Source:
Historical Unemployment Rates
Filed under:
General Knowledge