Median Household Income Was $50,054 In 2011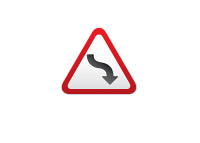 Earlier this week, the Census Bureau released their "Income, Poverty, and Health Insurance Coverage in the United States" report for 2011.
The report revealed that median household income in the United States fell for the fourth straight year in 2011.
After hitting $54,489 in 2007 (inflation adjusted), median household income has dropped by nearly $4,500:
2007 - $54,489
2008 - $52,546
2009 - $52,195
2010 - $50,831
2011 - $50,054
Median household income is defined by the U.S. Census Bureau as "the amount which divides the income distribution into two equal groups, half having income above that amount, and half having income below that amount."
So, in 2011, 50% of US households had incomes of less than $50,054, while 50% of US households had incomes of more than $50,054.
The Census Bureau counted a total of 121,084,000 households in 2011.
--
The all-time high for median household income, on an inflation adjusted basis, was posted in 1999 ($54,932).
--
It should be noted that the country is perilously close to posting a median household income number of less than $50,000 for the first time since 1995 ($49,935).
Can the country reverse the trend in 2012?
Source:
Median Household Income
Source:
US Census Bureau
Filed under:
The Economic Meltdown