Intrade Traders Believe That Obama Has Big Advantage Over Romney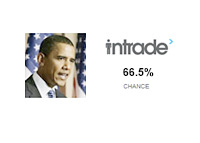 According to the traders on Intrade.com, President Barack Obama currently has a 66.5% chance of winning a second term in November.
Intrade.com, which bills itself as the "world's leading prediction market", allows people to bet real money on the outcome of certain events.
Each "event" is valued with a contract that trades between $0 and $10. If an event has absolutely no chance of happening, the contract will have a value of $0. If the event has a 50% chance of happening, the contract will trade at a value of $5.
If you buy a contract at $5 and the event ends up happening, the contract will then be worth $10. If the event ends up not happening, the contract will be worthless.
The "
Barack Obama to be re-elected President in 2012
" currently has a value of $6.65, while the "
Mitt Romney to be elected President in 2012
" contract currently has a value of $3.41. The current pricing of the Mitt Romney contract means that Intrade.com traders believe that he has a 34.1% chance of winning in November.
--
The Barack Obama contract is currently trading close to its all-time high of around $7.00. The contract spiked to just under $7 following the death of Osama Bin Laden last year.
The lowest that the Barack Obama contract traded was in the $4.70-$4.80 range - it hit these levels in the fall of 2011.
The Mitt Romney contract, on the other hand, hit an all-time high of about $4.40 less than a month ago. Its all-time low was around $0.50, long before Mitt Romney was named as the Republican nominee for President.
--
According to Gallup.com
, President Obama currently enjoys a three point advantage over Mitt Romney (48%-45%).
Filed under:
General Knowledge