Google Blames Owner of EDGAR For Mistake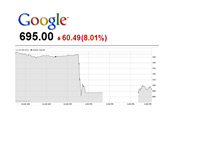 It's quite something when a $225 billion company has its shares halted in the middle of a trading session, but that's exactly what happened with Google earlier today.
Here is what happened:
Google was set to report their Q3 earnings at 4:30 pm EST today.
At around 12:30 pm EST, Google Inc's Form 8-K was "erroneously released early". The Form 8-K is used to notify shareholders of any material event that is important to them and/or the Securities and Exchange Commission. Google's Form 8-K filing included a press release that detailed the company's Q3 numbers - information that shouldn't have been released until after the bell.
The press release revealed weaker than expected numbers (lower than expected earnings and lower than expected revenues), which caused Google to tank almost 80 points in just a couple of minutes. Roughly 20 minutes after the "erroneous" release, the stock was halted.
--
Google is blaming RR Donnelley, owners of corporate reporting system EDGAR, for "filing their 8K without authorization". Here is the statement from Google:
"Earlier this morning RR Donnelley, the financial printer, informed us that they had filed our draft 8K earnings statement without authorization. We have ceased trading on NASDAQ while we work to finalize the document."
The press release was clearly not ready to be released to the public at 12:30 pm EST, as it included this snippet:
"MOUNTAIN VIEW, Calif. – October 18, 2012 – Google Inc. (NASDAQ: GOOG) today announced financial results for the quarter ended September 30, 2012.
PENDING LARRY QUOTE"
A quote from Google's CEO Larry Page was clearly meant to be added later, but the Form 8-K, along with the press release, was filed hours early with the SEC.
--
All in all, a very embarrassing day for both Google and RR Donnelley. I would imagine that somebody at RR Donnelley will be losing their job after this fiasco.
Source: SEC.gov -
The "Erroneous" Press Release
Filed under:
General Market News