Preliminary Data Shows Economy Grew 2.0% In Third Quarter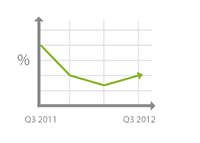 According to the Bureau of Economic Analysis of the U.S. Department of Commerce, real gross domestic product increased at an annualized rate of 2.0% in the third quarter. This was the advance estimate - a second estimate, based on more complete data, will be released in late November.
According to the BEA, the increase in Q3 GDP was largely the result of "positive contributions from personal consumption expenditures, federal government spending, and residential fixed investment."
Personal consumption expenditures, which make up a very large part of the GDP, increased 2.0% in the third quarter, up from 1.5% in Q2.
--
GDP growth for the last year looks like this:
Q3 2012 (advance estimate) - 2.0%
Q2 2012 - 1.30%
Q1 2012 - 2.00%
Q4 2011 - 4.10%
While the economy is growing, 2.0% GDP growth is certainly underwhelming and won't go far towards helping millions of unemployed Americans find work.
Source:
Historical GDP Numbers
Source:
BEA.gov
Filed under:
General Knowledge