First Time That NYSE Has Closed For Weather Since 1985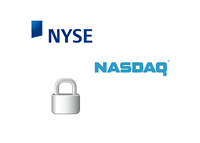 If you woke up on Monday morning and checked to see how your stocks were performing, you probably noticed that nothing on the major US stock and options exchanges traded on Monday.
The reason? Hurricane Sandy.
Thanks to Hurricane Sandy, major US exchanges (including the NYSE and NASDAQ) kept their doors closed on Monday. These exchanges are going to remain closed on Tuesday - the tentative plan is for normal business to resume on Wednesday morning after Hurricane Sandy has passed through the area.
--
The last time that the New York Stock Exchange was forced to close due to weather was 1985, and that was due to Hurricane Gloria. The last time that the NYSE was forced to close for two consecutive days because of weather? 1888. The reason? MASSIVE snow drifts (media reports have stated that there were drifts as high as 40 feet in New York City that year).
--
Bond trading will also remain closed on Tuesday after an early close to the day on Monday.
Electronic trading on the CME remained open on Monday, but the New York trading floor was closed. There is no word as of yet as to what the CME is planning for Tuesday.
--
According to Weather.com
, Hurricane Sandy "continues to be an extremely large and dangerous system with a track and intensity that are without precedent in the era of modern weather observation."
Filed under:
General Market News