Eurozone Unemployment Rate Increased to 11.6% in September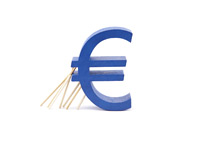 European statistics office Eurostat released some pretty somber data earlier today regarding the current employment situation in the Eurozone.
According to Eurostat, Eurozone unemployment hit a new all-time high in September after an additional 146,000 people joined the ranks of the unemployed.
All told, 18.49 million people in the Eurozone are currently without jobs. If you consider the entire European Union, this number rises to an astonishing 25,751,000 people. The unemployment rate in the Eurozone ticked higher to 11.6% in September, while the European Union unemployment rate currently sits at 10.6%.
As you can probably imagine, the employment situation in countries such as Greece and Spain is particularly bad. Greece currently has an unemployment rate of approximately 25%, while Spain's currently sits at 25.8%. On the other end of the spectrum you have countries such as Germany (5.4%) and the Netherlands (5.4%). France and Italy currently sit in the middle of the pack with unemployment rates of a little under 11%.
Youth unemployment is at astonishingly high levels in the Eurozone. Youth unemployment ("youth" considered to be anybody under the age of 25) in the Eurozone currently sits at 23.3% - just last month, this number was 21%. Youths in Spain have been particularly hard hit, as the country's youth unemployment rate currently sits at an astonishing 54.2%.
--
High unemployment is a double-edged sword. Tax revenues take a big hit with so many people out of work, while governments are forced to spend more money on unemployment benefits, welfare, etc. This has led a number of Eurozone governments to impose harsh austerity measures.
Source: Financial Times -
Eurozone Unemployment Hits Record Level
Filed under:
The Economic Meltdown