Economy Adds 171,000 Jobs in October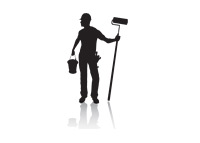 The BLS ("Bureau of Labor Statistics") released the October employment numbers earlier today.
Total nonfarm payroll employment increased by 171,000 in October, while the national unemployment rate ticked higher to 7.9%. Economists had been projecting that the economy would add 125,000 nonfarm payroll jobs in October and that the unemployment rate would hold steady at 7.8%.
This was the last jobs report before voters head to the polls next week.
--
The civilian labor force rose to 155,641,000 in October, up from 155,063,000 in September. This increase led to an uptick in the
labor force participation rate
, from 63.6% to 63.8% (to get the participation rate, divide the civilian labor force by the civilian noninstitutional population, which was 243,983,000 in October).
The total number of employed rose to 143,384,000 in October, up from 142,974,000 the month before. The number of unemployed also rose, increasing from 12,088,000 to 12,258,000. Divide 12,258,000 by 155,641,000 and you are left with a national unemployment rate of 7.9% (7.8758% to be exact).
The unemployment rate for men over the age of 16 held steady at 8.0% in October, while the unemployment rate for women over the age of 16 rose from 7.5% to 7.7%. The number of unemployed women over the age of 16 increased from 5,456,000 to 5,616,000 in October.
--
The U-6 rate
, which is an alternative measure of labor utilization that includes people who are "
marginally attached
" to the workforce and those who working part-time jobs for "economic reasons" (meaning they want full-time work but can't find it) dropped slightly to 14.6% in October, down from 14.7% the month before.
--
The sectors that added the most jobs in October were:
Professional and Business Services - 51,000 jobs
Retail Trade - 36,000 jobs
Health Care - 31,000 jobs
Leisure and Hospitality - 28,000 jobs
--
The BLS also announced that total nonfarm payroll numbers for both August (+142,000 to 192,000) and September (+114,000 to +148,000) were both revised higher.
Source:
BLS.gov
Source:
Historical Unemployment Numbers
Filed under:
The Economic Meltdown