$38.7 Billion in Online Holiday Spending Through December 21st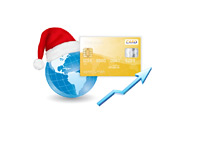 According to comScore.com (link below), online holiday spending was up 16% YoY (Year over Year) through December 21st.
From the period between November 1st and December 21st, Americans spent approximately $38.7 billion online, excluding travel spending. This is up 16% from the same period last year.
According to comScore, Americans were burning up their credit cards during the last workweek before Christmas. ComScore claims that from December 17th to December 21st (Monday-Friday), Americans spent a whopping $3.7 billion online, up dramatically from the $2.41 billion that was spent during the same period last year. "Free Shipping Day" (December 17th) was a particularly strong day for online sales, as American shoppers racked up over $1 billion alone that day.
The top 10 online spending days of 2012:
Monday, November 26th (Cyber Monday) - $1.465 billion
Tuesday, December 4th - $1.362 billion
Monday, December 10th - $1.275 billion
Tuesday, November 27th - $1.263 billion
Tuesday, December 11th - $1.220 billion
Friday, December 14th - $1.219 billion
Thursday, December 13th - $1.135 billion
Monday, December 3rd - $1.117 billion
Wednesday, November 28th, $1.110 billion
Wednesday, December 5th, $1.051 billion
Retailers have capitalized on the unwillingness of many shoppers to brave the malls on the days surrounding Thanksgiving. The implementation of "Cyber Monday", along with the unveiling of many special online "Black Friday" deals, have resulted in many Americans skipping the malls completely around Thanksgiving. "Black Friday" deals are no longer the domain of just the brick and mortar retailers.
Source: comScore.com -
Free Shipping Day Promotion Spurs Late-Season Online Spending Surge, Improving Season-to-Date Growth Rate to 16 Percent vs. Year Ago
Filed under:
General Knowledge