155,000 Nonfarm Payroll Jobs Added in December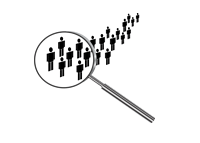 According to numbers that were released by the BLS (Bureau of Labor Statistics) on Friday morning, the US economy added 155,000 nonfarm payroll jobs in December, while the national unemployment rate clocked in at 7.8%.
The government revised the unemployment rates for two months in 2012 (July from 8.3% to 8.2%, and November from 7.7% to 7.8%), meaning that the national unemployment rate was technically unchanged in December.
The nonfarm employment numbers were revised slightly lower for October (138,000 to 137,000) and slightly higher for November (146,000 to 161,000).
There was not a great deal of change from November to December - here are some of the numbers that may interest you:
Civilian Labor Force
November - 155,319,000
December - 155,511,000
Labor Force Participation Rate
November - 63.6%
December - 63.6%
Number of Employed
November - 143,277,000
December - 143,305,000
Number of Unemployed
November - 12,042,000
December - 12,206,000
U-6 Unemployment Rate
November - 14.4%
December - 14.4%
--
Before rounding, the national unemployment rate moved from 7.75% in November to 7.849% in December.
--
The health care employment (+45,000) and food services and drinking places (+38,000) industries added the most jobs in December.
--
The final unemployment rate numbers from 2012:
January 2012 - 8.3%
February 2012 - 8.3%
March 2012 - 8.2%
April 2012 - 8.1%
May 2012 - 8.2%
June 2012 - 8.2%
July 2012 - 8.3%
August 2012 - 8.1%
September 2012 - 7.8%
October 2012 - 7.9%
November 2012 - 7.7%
December 2012 - 7.8%
Source: BLS.gov -
Employment Situation Summary
Source:
Historical Unemployment Rates
Filed under:
General Knowledge