Apple Temporarily Dips Below $500 on iPhone 5 Worries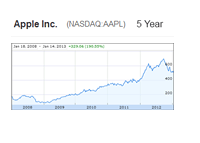 The tech world was turned upside down today after Dell traded almost 13% higher on rumors that the company was considering going private. Shares of Apple, which has basically gone straight up over the past 7-8 years, dipped below $500 on worries about slowing iPhone demand. Talk about a flip-flop.
Apple closed down over 18 points (about 3.57%) today to finish the day at $501.75. Shares of Apple momentarily dipped below $500 during the session before recovering slightly at the end of the day.
Shares of Apple hit an all-time high of $705.07 on September 21st, 2012. Since that day, shares of the company have fallen over 200 points, which is the equivalent of more than $100 billion in total market cap.
Apple, which could seemingly do no wrong just a few months ago, all of a sudden has investors feeling very skittish.
Today's weakness was caused by a report that claimed that Apple has cut orders for LCD screens and other iPhone 5 parts due to slackening demand. Increased competition from Samsung and others is being mentioned as the main reason behind the weakened demand for Apple's iPhone 5. Some analysts are running to the defense of Apple today, calling the report old news.
--
Apple is one of the most widely held stocks in the world right now, if not THE most widely held stock. Mutual funds, hedge funds and individual investors have gobbled up shares of Apple during the company's unbelievable 7-8 year run.
The problem with situations such as Apple is that many investors will be unwilling to stick around to see if the company can recover from its current stumble. Many investors (hedge funds, investors, etc) have likely already dumped some or all of their positions in Apple and will revisit the company down the line. With shares of the company already coming off over $200, many people are terrified of losing even more of their gains. This translates into sustained selling pressure that is tough to reverse. In this day and age, it's "Sell now, ask questions later."
--
As mentioned, there are a number of analysts who still believe that Apple will be an $800 stock. Do you believe that this selling is overblown, or do you believe that the best days are now behind Apple?
Filed under:
General Market News