Gasoline Prices Continue To Spike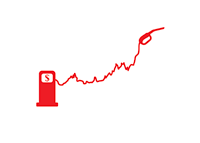 According to AAA's Daily Fuel Gauge Report, the national average price for a gallon of regular gasoline is $3.578, which is an all-time high for the month of February.
Gasoline prices, which have increased more than 10 cents per gallon in the past week and nearly 30 cents per gallon in the last month, are currently within view of all-time highs. According to AAA the highest record average price for a gallon of regular unleaded is $4.114, which was hit in July of 2008.
Gasoline prices have spiked in recent days due to the storm that has hit the Northeast United States. The cost of a gallon of gasoline in states such as New York ($3.909) and Connecticut ($3.900) is quickly approaching the $4/gallon level. Two other states are currently spending more than $4/gallon gasoline, and they are California ($4.038) and Hawaii ($4.213).
--
At this point last year, US motorists were spending roughly $3.45 for a gallon of unleaded gasoline. Gas prices surged all the way to just below $4/gallon in the spring of 2012, pulled back through the end of June and then spiked once again (this time to a little over $3.85/gallon).
Will we break the $4/gallon level in 2013? Will we set a new all-time record? What will this do to the economy?
Source:
AAA's Daily Fuel Gauge Report
Filed under:
General Knowledge