Carlos Slim Helu Tops List With $73 Billion Fortune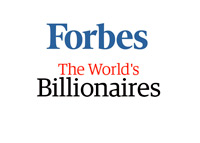 Carlos Slim Helu has topped the Forbes Magazine Billionaire List for the fourth straight year.
According to Forbes, Helu, through his Grupo Carso, SA de CV conglomerate, has amassed a $73 billion fortune, making him the world's richest man. America Movil, one of the largest mobile phone carriers in Latin America, accounts for a large percentage of Helu's wealth.
Bill Gates, co-founder and Chairman of Microsoft, took second place in Forbes' annual Billionaire List with a total net worth of $67 billion. It should be noted that Gates has given away billions of dollars of his net worth to various charitable organizations (namely, the Bill and Melinda Gates Foundation) over the years.
Warren Buffett dropped from #2 to #4 on the list, despite the fact that his net worth actually increased over the last year. According to Forbes, Buffett currently has a net worth of $53.5 billion.
Here is the top of the list:
1. Carlos Slim Helu and Family, $73 billion
2. Bill Gates, $67 billion
3. Amancio Ortega, $57 billion
4. Warren Buffett, $53.5 billion
5. Larry Ellison, $43 billion
--
According to Forbes, there are currently 1,426 billionaires spread throughout the world. The United States has a total of 442 billionaires, while Asia has 386. In total, the world's billionaire population has a combined wealth of $5.4 trillion.
The average wealth of the 1,426 billionaires is $3.8 billion. It was a good year for the world's wealthiest 1,426 people, as their net worth increased by an average of $100 million.
210 new billionaires were minted in the past calendar year.
Source: Forbes.com -
Billionaire List
Filed under:
General Knowledge