US Household Wealth Currently Sits at $66.1 Trillion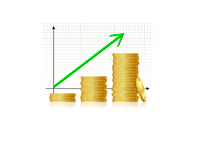 According to the Federal Reserve, US household wealth increased by $1.17 trillion in the fourth quarter of 2012 and now sits at a total of $66.1 trillion. This is the highest total household wealth number that has been posted since the fourth quarter of 2007.
The all-time high for US household wealth is $67.4 trillion, and that number was posted in the third quarter of 2007.
--
The uptick in household wealth during the fourth quarter was the result of surging equities and a continued strengthening of the US housing market.
The value of financial assets owned by US households increased by $784.4 billion in the fourth quarter, which is not a surprise given the sustained move higher that we've seen in the stock market.
Real Estate net worth increased by $478.6 billion during Q4, which is the largest such climb since the mega-frothy days of early 2006. This is the sixth straight quarter in which household real estate net worth has increased.
--
Not surprisingly, US households are feeling more confident about borrowing now that their net worths are heading higher. The Fed reported that household debt increased at an annual rate of 2.4% during Q4, which is the largest such increase since the "Great Recession".
--
With the Fed aggressively supporting the system, don't be surprised at all to see new all-time highs for household wealth reached in the first quarter of 2013.
Source:
FederalReserve.gov
Filed under:
General Knowledge