China Continues To Accumulate US Debt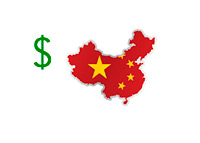 For a short while in 2012, it appeared as though China may have been close to relinquishing their title as the largest foreign holder of US debt.
China's appetite for US debt seemed to be diminishing, and Japan continued to steadily add to their holdings with each passing month.
Things have changed recently, with China seemingly regaining their ferocious appetite for US debt.
According to the Treasury Department, China now owns over $1.26 trillion in US debt, which is roughly $150 billion more than Japan. China and Japan are, by far, the largest foreign holders of US debt - the next closest country is Brazil, which reported owning $253.4 billion in US debt as of January.
China added 3.61% (roughly $44 billion) to their US debt holdings in the month of January. Over the last twelve months, China has increased their US debt position by 8.43% (roughly $98 billion). Japan, on the other hand, has increased their position by 3.18% (roughly $35 billion) over the past 12 months.
China's currently $1.264 trillion in US debt holdings is the most that the country has ever held.
--
The top five foreign holders of US debt (as of January/2013):
China, $1264.5 Billion
Japan, $1115.2 Billion
Oil Exporters, $262.0 Billion
Brazil, $253.4 Billion
All Other, $245.5 Billion
Source:
Largest Foreign Holders of US Debt
Filed under:
General Knowledge