Unemployment Rate Dropped to 7.5% in April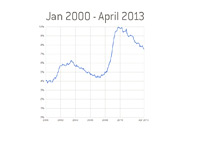 The BLS ("Bureau of Labor Statistics") released the April employment report earlier this morning.
According to the BLS, the United States added 165,000 nonfarm payroll jobs in April, which was higher than what most economists and companies were expecting.
The national unemployment rate dropped from 7.6% to 7.5% in April, and is now at its lowest level since December of 2008.
Nonfarm payroll job totals were revised for both February (+268,000 to +332,000) and March (+88,000 to +138,000).
--
Let's break down the numbers a bit more.
The civilian noninstitutional population, which consists of people 16 years and older who are not inmates of institutions or on active duty in the Armed Forces, increased from 244,995,000 to 245,175,000.
The civilian labor force, which consists of the people in the civilian noninstitutional population who have a job or are currently looking for a job, increased from 155,028,000 to 155,238,000.
Divide the civilian labor force by the civilian noninstitutional population and we are left with a labor force participation rate of 63.3%. This is unchanged from March.
The number of employed people in the United States increased from 143,286,000 to 143,579,000 in March, up 293,000 from the month before. The number of unemployed people dropped 83,000 from 11,742,000 to 11,659,000 in April.
Divide the number of unemployed people by the civilian labor force and we are left with an unemployment rate of 7.5104%.
The number of people not in the labor force (people without a job who are not actively looking for a job) dropped from 89,967,000 to 89,936,000 in the month of April.
The unemployment rate for adult men (20 and over) increased from 6.9% to 7.1% in April, while the unemployment rate for adult women dropped from 7.0% to 6.7%.
The unemployment rate for teenagers (16 to 19 years) dropped slightly from 24.2% to 24.1%.
The number of people who took part time jobs for economic reasons (meaning, they want full-time work but can't find it), jumped from 7,638,000 to 7,916,000 in April, for a total increase of 278,000.
--
The U-6 unemployment rate, which is an alternative measure of labor underutilization, increased to 13.9% from 13.8% in April.
Source: BLS.gov -
Employment Situation Summary
Filed under:
General Knowledge