Bill Gates Has Net Worth of Nearly $73 Billion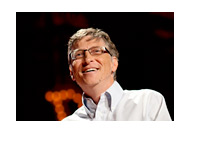 According to the Bloomberg Billionaires Index, Microsoft co-founder Bill Gates has recaptured the title of world's richest person from Carlos Slim.
Bill Gates' net worth has been on the upswing as of late, thanks, in large part, to the recent stellar performance of Microsoft. Bill Gates' 400 million share position in Microsoft have been on the upswing, as shares of the Redmond company have surged from $27 to over $34 in the past six months.
According to my calculations, Bill Gates finished today (Thursday, May 16th) with a total net worth of $72,347,235,904. It's obviously impossible to get his net worth exactly right, but we can get fairly close based on public filings and some educated guesswork.
Source:
Bill Gates Net Worth
Bill Gates' net worth is especially impressive when you consider the fact that he has donated nearly $30 billion of his wealth to the Bill and Melinda Gates Foundation.
--
According to Bloomberg, here are the net worths of the world's 10 richest people:
Bill Gates - $72.7 billion
Carlos Slim - $72.1 billion
Warren Buffett - $59.6 billion
Amancio Ortega - $56.0 billion
Ingar Kamprad - $55.5 billion
Charles Koch - $45.2 billion
David Koch - $45.2 billion
Larry Ellison - $41.6 billion
Christy Walton - $37.9 billion
Jim Walton - $36.1 billion
Source:
Bloomberg Billionaires Index
Photo:
jurvetson
Filed under:
General Knowledge