President Obama Has Net Worth Of Between $852,013 and $6,380,999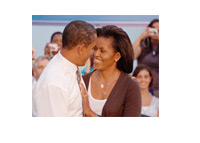 President Barack Obama and the First Lady may have one of the most boring financial disclosure reports in all of Washington.
According to President Obama's 2012 financial disclosure report that was released earlier this week, the President and the First Lady have a total net worth of somewhere between $852,013 and $6,380,999. The President and First Lady don't have to list the exact values of their assets, which is why we don't know their exact net worths.
The biggest single asset that the Obamas own? Between $1,000,001 and $5,000,000 in US Treasury Notes.
Let's take a look at the rest of their assets that are worth at least $100,000:
JPMorgan Chase Private Client Asset Mgmt Checking Account, $250,001 - $500,000
Vanguard 500 Index Fund (Retirement), $100,001 - $250,000
Vanguard 500 Index Fund (Retirement), $100,001 - $250,000
US Treasury Bills - SEP/IRA, $100,001 - $250,000
As I said - pretty boring and straightforward.
Note: President Obama isn't required to list his primary residence in his financial disclosure report. The mortgage, however, is listed - the Obamas currently own between $500,001 and $1,000,000 on their Illinois home.
--
Including the salary that he earned as the leader of the country, President Obama brought in between $681,209 and $2,598,500 in 2012. This includes royalty payments from President Obama's various books, including Dreams From My Father and Audacity of Hope. It should be noted that 100% of the after-tax income from "Of Thee I Sing: A Letter To My Daughter" is donated to the Fisher House Foundation.
--
Source:
President Obama Net Worth
Filed under:
General Knowledge