175,000 Non-Farm Payroll Jobs Added in May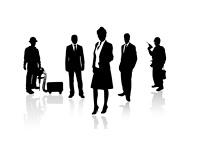 Some were calling the May jobs report the most important in years, as it would go a long way towards determining exactly when the Federal Reserve would start tapering its $85 billion a month bond buying program.
The US economy added 175,000 non-farm payroll jobs in May, which was slightly higher than what most were anticipating (the general consensus had the US economy adding about 150k non-farm payroll jobs in May).
The national unemployment rate ticked slightly higher to 7.6% from 7.5% the month before. Here are the monthly unemployment rates for 2013:
January - 7.9%
February - 7.7%
March - 7.6%
April - 7.5%
May - 7.6%
--
Let's break down the May numbers a little bit.
The civilian noninstitutional population, which includes everyone aged 16 years and older who is not an inmate of an institution (jail, mental facility, etc) or on active duty in the armed forces, increased by 188k to 245,363,000 in May.
The civilian labor force, which includes members of the civilian noninstitutional population who are either employed or actively looking for work, increased 420k to 155,658,000 in May.
After dividing the civilian labor force by the civilian noninstitutional population, we are left with a "labor force participation rate" of 63.4%, which was up slightly from the 63.3% rate that was posted the month before. Having said that, the labor force participation rate is down 0.4% from a year ago.
According to the BLS (Bureau of Labor Statistics), there were 143,898,000 employed Americans in May, while 11,760,000 were unemployed but actively looking for work. This leaves us with a May unemployment rate of 7.6%.
The number of people not in the labor force (those not employed and not actively looking for work) fell 231k to 89,705,000.
The unemployment rate for adult men increased 0.1% to 7.6% in May, while the unemployment rate for adult women also increased 0.1% to 7.2%.
The unemployment rate for teenagers increased 0.4% to 24.5%.
The U-6 unemployment rate, which is an alternative measure of labor underutilization, dropped 0.1% to 13.8% in May.
--
The total non-farm payroll employment numbers for both March and April were adjusted:
March - +138,000 to +142,000
April - +165,000 to +149,000
Source:
BLS.gov
Filed under:
General Knowledge