Call Buying Accelerates Ridiculously Ahead of T/LEAP Merger Announcement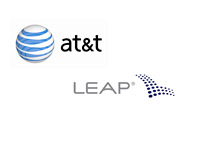 Shortly after the markets closed today, AT+T announced that they would be buying Leap Wireless International Inc. for $1.19 billion. The No. 2 carrier in the United States is offering LEAP shareholders $15/share in cash, as well as one CVR (Contingent Value Right) per share that will entitle each LEAP shareholder to "a pro rata share of the net proceeds of the future sale of the license granted to Leap by the FCC having the call sign WQJQ707 (the 'License')". LEAP soared in after-hours trading after the deal was announced, closing the late session at over $17 per share.
The information about the T/LEAP merger was clearly leaked early, as bullish options bets on LEAP soared on Friday afternoon, mere minutes before the deal was formally announced.
According to Bloomberg.com
, roughly 6,700 LEAP call options changed hands on Friday, roughly 5.6 times the 20-day average.
The really blatantly obvious play, however, was the buying of the July $9 calls. According to Bloomberg.com, 1,318 of these calls changed hands on Friday, compared to the normal daily average of 10.
Somebody is sitting on a very large paper gain this Friday evening, but the SEC will surely be looking into the surge in options buying on Monday morning.
The same thing happened a few weeks ago when it was revealed that insiders of Onyx Pharmaceuticals, Inc. had allegedly improperly acted on their knowledge of the company's rejection of Amgen's advances. Onyx's board of directors had rejected the proposed $120/share deal and authorized its financial advisors to look for a better deal for the company. The rejection was revealed by a financial publication a few weeks ago, and shares of Onyx soared.
According to the SEC
, unknown traders purchased call options on Onyx Pharmaceuticals, looking to profit from their knowledge of the situation. The SEC alleges that these traders possessed non-public information about the offer and profited to the tune of $4.6 million. The SEC quickly moved to freeze these allegedly ill-gotten gains.
--
People keep trying to get away with moves like this, and people keep getting busted by the SEC. I guess that the temptation is just too great.
Expect to hear about a SEC enforcement action regarding the call options buying on LEAP over the next couple of weeks.
Filed under:
General Market News