Larry Ellison Received $96.2 Million in Total Compensation Last Year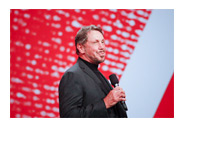 Given that the major US market indexes are still in the middle of a parabolic rise with no signs of slowing down, there should be no surprise to hear that US CEOs are doing extremely well.
Bloomberg.com (link below) recently compiled a list of the top 15 US CEOs in terms of total compensation, which includes salary, bonuses, stock options and equity stakes. Bloomberg notes that some of the compensation is in the form of restricted stock and options, which will vest over time.
According to Bloomberg, the US CEO who received the highest amount of total compensation in 2012 was Larry Ellison, CEO of Oracle. Ellison pulled in a total of $96.2 million in compensation last year, including over $90 billion in stock options.
Ellison, who is already one of the world's richest men, likely won't do as well next year, as Oracle's stock has recently fallen on harder times.
Number two on the list? Elon Musk, who reportedly received $78.2 million in total compensation from Tesla Motors last year. Bloomberg notes that most of this compensation was in the form of stock options that will take over 10 years to vest, provided that certain targets are met.
Musk, who also helps to run Solar City and SpaceX, has seen his fortune soar over the past year due to the rise in shares of Tesla Motors and Solar City. Tesla Motors has done particularly well, more than tripling in value over the past 12 months.
Number three on the list? Mario Gabelli, who reportedly raked in nearly $70 million in total compensation last year from GAMCO Investors.
--
Here is the top ten US CEOs in terms of total compensation:
1.
Larry Ellison
, Oracle, $96.2 million
2.
Elon Musk
, Tesla Motors, $78.2 million
3. Mario Gabelli, GAMCO Investors, $69.0 million
4. Robert Kotick, Activision Blizzard, $64.9 million
5. Leslie Moonves, CBS, $62.2 million
6. Charif Souki, Cheniere Energy, $57.5 million
7. Gregory Maffei, Liberty Media, $57.2 million
8. Brett Roberts, Credit Acceptance, $54.3 million
9. John Hammergren, McKesson, $51.7 million
10. David Zaslav, Discovery Communications, $49.9 million
Source: Bloomberg.com -
Compensation Kings: Top 15 U.S. CEOs
Filed under:
General Knowledge