August Jobs Report Misses Expectations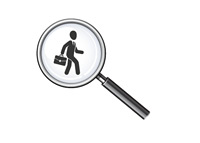 Earlier today, the BLS ("Bureau of Labor Statistics") released the August employment report.
The consensus amongst economists was that the United States added 180,000 nonfarm payroll jobs in August, and that the national unemployment rate remained unchanged at 7.4%.
Instead, the nation added 169,000 jobs in August, while the national unemployment rate dropped to 7.3%.
Decent report, right? The nation added less jobs than expected, but the national unemployment rate dropped! Great news!
Not really. Let's look at the negative aspects of this report.
To start, the nation missed the economist consensus for nonfarm payroll jobs by 11,000 in August.
Next up - the nonfarm payroll numbers for both June and July were revised lower. The June number was revised down to 172,000 from 188,000, while the July number was revised lower to 104,000 from 162,000. As you can see, the July revision was particularly nasty.
The number of unemployed Americans dropped from 11,514,000 to 11,316,000, which is the reason why the unemployment rate dropped from 7.4% to 7.3% in August. However, the number of employed Americans also dropped from 144,285,000 to 144,170,000. This resulted in the labor force participation rate dropping from 63.4% to 63.2%, which continues a multi-decade slide.
The number of people who are not in the labor force (neither employed or unemployed) increased from 89,957,000 to 90,473,000 in August. In order to be considered "unemployed", you need to be out of work and actively looking for a job. A few examples of the people who are not considered to be unemployed:
1) Somebody who has given up looking for work.
2) Somebody who has a part-time job but wants full-time work.
3) Somebody who is taking some time off of looking for work to brush up on their skills.
These are all people who are not considered to be "unemployed".
For the number of people not in the labor force to increase by over 500,000 in August is troubling, and this is one of the major reasons why this employment report was considered to be quite weak.
--
Despite today's employment report, the general consensus is that the Federal Reserve will still continue with their plan of tapering their $85 billion/month bond buying program over the next month or so. However, the Fed may taper by a smaller amount than originally anticipated due to the weakness of this report.
Filed under:
General Knowledge