DJIA Surges Over 300 Points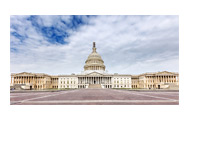 Stocks traded up sharply on Thursday after word leaked of a GOP plan that would see the nation's debt ceiling increased for a short period of time. The Dow Jones industrial Average jumped over 323 points (+2.18%), while the Nasdaq and S+P 500 also posted similar increases.
According to reports, House Republican leaders are reportedly prepared to agree to a temporary increase in the nation's debt ceiling if President Obama agrees to sit down to discuss some of the nation's "pressing problems".
President Obama is reportedly happy that the Republicans are willing to avoid a default, but has stated that he wants a long-term solution.
The GOP plan would suspend the nation's debt ceiling limit until November 22nd, and it would also forbid the Treasury Department from utilizing "extraordinary measures" to continue funding the government past that date. So, in short, November 22nd would be the hard deadline in order to get a debt ceiling deal done.
The GOP proposal reportedly does nothing to solve the government shutdown that is currently in its second week - instead, it would simply push back the possibility of a US default until the last Friday before Thanksgiving.
According to senior GOP advisors, the temporary debt ceiling increase would be implemented in order to "calm jittery markets".
President Obama, for his part, has demanded that the federal government re-open before he sits down to negotiate with the Republicans.
--
The US federal government is in the second week of its partial showdown after House Republicans refused to pass a short-term funding bill unless it was accompanied by changes or delays to key portions of "Obamacare". President Obama and the Democrats refused to implement such changes, and the federal government partially shut down for the first time since 1995-1996.
The nation needs to increase its debt ceiling limit by October 17th or else it runs the risk of a default. The battle over "Obamacare" and the short-term funding bill soon became intermingled with the fight over the nation's debt ceiling. The Republicans have stated that they want to try and make changes to some of the programs that are helping to contribute to the nation's long string of deficits, including Medicare and Social Security. In addition, Republicans have also stated their intentions to overhaul the nation's tax code.
--
A meeting between President Obama and House GOP leadership is scheduled for later today. If Obama agrees to the short-term debt limit proposal, House Republicans will then vote on the idea either this evening or tomorrow morning.
Filed under:
General Knowledge